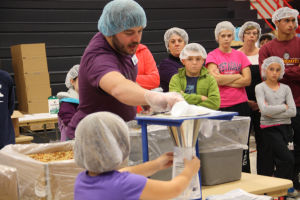 Last year, Danny Pyne with the Feed My Starving Children organization of Chicago, showed local Sauk Prairie Against Hunger volunteers how to package meals that will be shipped around the world.
How to help
To volunteer for the food packing event, contact John or Sarah Ramthun at 608-658-4700, email makingservicepersonal@gmail.com or visit the 6:8 Making Service Personal website at www.makingservicepersonal.org
October may be the busiest month of the year for organizers of the Sauk Prairie Against Hunger program, but the group's efforts in providing food to low income families goes on all year.
Sauk Prairie Against Hunger is operated as part of the 6:8 Making Service Personal organization.
The group is looking for volunteers to help with its annual packing event that provides food to the Sauk Prairie Area Food Pantry and sends packs of food items to under developed countries experiencing food shortages.
This year, 1,500 volunteers are needed Oct. 30, 31 and Nov. 1 for the Feed My Starving Children food packing event at Grand Avenue Elementary School. The group plans to pack 350,000 meals to be shipped around the world.
Last year, more than over 1,000 volunteers packed 217,000 meals, and the goal this year is 1,500 volunteers who work a two-hour shift packing the food.
During that same weekend, a Can Creation food drive will be held in which local groups use canned food products to create artistic displays. The displays are judged and their creators are awarded prizes in categories of artistic creativity of display, total number of items and total weight.
6:8 co-executive director John Ramthun said 5,000 pounds of food was collected last year at this time, and the goal this year is 6,000 pounds, all of which will be donated to the Sauk Prairie Area Food Pantry.
Ramthun said the food packing weekens is a big part of the group's activities, but there is much more work that goes on year-round to help feed families in the Sauk Prairie School District.
"Our core team meets weekly throughout the year helping to feed people locally and globally," "It's a year round adventure," Ramthun said. "Four years ago we sponsored 30 families. Now we sponsor 110 families each school break."
The group works with the school district to determine families with the greatest need and four times per year gives out backpacks of food items and gift certificates for both the Piggly Wiggly in Sauk City and Sentry Foods and Wyttenbach Meats in Prairie du Sac.
Ramthun said the backpack is funded entirely by $77,000 in annual donations to the group. So far this year, the effort has raised more than $62,500 toward that goal.
The group also plants a garden of vegetables at St. Johns Lutheran Church and holds food and donation events throughout the year to meet its goal of reducing hunger in the local area and globally.