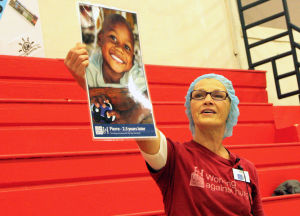 Betty Basarich, a Feed My Starving Children representative who works at a permanent food packing site in Libertyville, Illinois, shows the smiling face of a little boy in Haiti who nearly died until fed with the organization's meals that more than 1,000 Sauk Prairie area volunteers helped pack and ship at Grand Avenue Elementary School on Oct. 30, 31 and Nov. 1.
A gymnasium full of volunteers fell silent Oct. 31 as Betty Basarich held up photos of a little boy in Haiti who had been near death from starvation.
Calling him Pierre, Basarich said when the Haitian boy was a year old, he weighed only 11 pounds.
He turns five this month, the Feed My Starving Children worker said as she held up another photo of Pierre, his face more full and smiling brightly.
"Pierre was taken to one of our medical clinics and he was diagnosed as being near the end of his life," Basarich told the crowd of nearly 100 people. "So, he was given emergency treatment and fed our food."
Pierre helped to a put a face to the goals of the 6:8 organization's Feed My Starving Children food packing event at Grand Avenue Elementary School held Oct. 30, 31 and Nov. 1.
Basarich said Feed My Starving Children has also supplied what's known as Potato-D and Potato-W mixtures that have helped Ebola-afflicted Liberia address symptoms from the disease.
The event surpassed its goal of packing 350,000 meals by more than 31,000.
John Ramthun, co-director of the 6:8 organization said the 1,200-plus volunteers completed more meals than the group had raised money for. 
Donations of $77,00 left the group in the red by $7,000 for the large number of prepared meals.
On Nov. 3, Culver's raised a challenge to area businesses to chip in and donate. Whatever is donated, Culver's will match it dollar for dollar, up to $3,500.
"That's really valuable and to know a community our size is feeding that many people, Ramthun said. "The event couldn't be this big without the whole community supporting it."
The 6:8 group packed its millionth meal in the three years it has hosted the event.
In addition to the food packing for other less fortunate countries, the event brought in 8,096 cans weighing 3,515 pounds for the Sauk Prairie Food Pantry. 
"Our mission at 6:8 is feeding people locally and gloabally," Ramthun said. 
For the third year, Mueller's Sports Medicine took first place in the Can Creation contest in which groups make artwork using canned goods.
Mueller's made a Jack-o-Lantern out of cans. Merrimac Charter School came in second with its food fairy can structure.
Ramthun said other communities joined in this year, with churches in Lodi, Baraboo and Madison sending several volunteers.
However, most of the volunteers were from the Sauk Prairie area, with many of them volunteering for their third time, and even working through multiple packing sessions.
Les Muller of Frito Lay came from Rockford, Illinois to help pack boxes with other Frito Lay employees. He said his community observed Halloween a week early, so he had the time to spare.
"I love kids and I love doing this kind of stuff," Muller said.
Kim Peck of Prairie du Sac also works for Frito Lay. He's volunteered for the event all three years.
"I love the lord and I love these kids, and anything I can do to help is kind of what he wants us to do," Peck said. "It just makes you feel good."
It was the first food packing event for Christina Brotherton of Prairie du Sac, who volunteered with her husband and son.
"We thought it would be a fun activity for the family," Brotherton said. "To think you're feeding kids, it's even better."
Jada Burch, 7, her brother Rylan, 6, and their grandmother Shirley Slaney volunteered for their second packing shift of the day.
"I want to do this for a long time," Jada said.