6:8 News
Subscribe to posts
With help from more than 1,200 volunteers, Sauk Prairie Against Hunger will provide nearly 290,000 meals to starving children around the world.
During its annual food pack event, held Oct. 26-28 at Grand Avenue Elementary School, families, youth, community members and people from all walks of life joined together to make the sixth annual Sauk Prairie Against Hunger Food Pack Event a success. The meals will mean 788 kids will not go hungry for the next year, according to John Ramthun of local service organization 6:8.
Each year the group aims to fill one semi-truck with food, which is the most efficient way for the food to be shipped. "We met that goal and surpassed it," Ramthun said.
Jackie Bascom, co-chair of Sauk Prairie Against Hunger's core team, said the event went well.
"As we are preparing our volunteer roster each year we see those slots slowly fill up," Bascom said. "As we get to the event, many people stop by or stay for a second shift. We had no trouble packing all the meals and beyond."
The non-profit group Feed My Starving Children delivers ingredients such as rice, soy, vegetables to the Sauk Prairie site, which has been held at Grand Avenue Elementary School.
"All the food is sourced from the U.S. is my understanding," Bascom said. "We pay 22 cents per meal for the ingredients, which is why we do the fundraising. All we need to do then is provide a facility and volunteers."
Another challenge at the food pack event has businesses and organizations competing to build things using canned goods and boxed food, called Canned Creations. All the food used to make the creations is donated to the Sauk Prairie Food Pantry.
Ramthun said last year the group introduced a new challenge to the event, called Feed One More.
"It challenges people to see what they can do to feed one more person," Ramthun said. "For 22 cents you can feed someone for a day. Multiply that times 365 days and that's about $80, or $6.68 per month."
Bascom said it's a great opportunity for families to think about what they could do without to feed another starving child.
"It could be that daily cup of coffee they buy or not going out to eat once a month so you can sponsor a child for a year," Bascom said. "You aren't going to get a picture of that child because they could be in Haiti, Uganda or Argentena. But Feed My Starving Children tells us when we are able to sustainably provide food for a child for a year, they have a much better success rate for surviving and thriving."
Ramthun said the response to the initiative this year was overwhelmingly positive. "We have 120 children being sponsored for the 2018 year," Ramthun said. "That's a huge response."
Bascom said despite the huge success the event has had over the past six years, there isn't a plan to expand it. "As a team we kick around a lot of ideas," Bascom said. "We did pack 350,000 meals one year but felt it was bit of a stretch for that size facility. We do talk about how we'd love to have a million meal pack, but that would require serious fundraising and cause facility challenges. Right now we feel the current goal is our sweet spot and we've kind of settled into it."
ERICA DYNES edynes@wiscnews.com

 
Oct 3, 2017
 
Just because a person has a full belly it doesn't mean the need for food isn't a problem.

April Martell, FoodWIse coordinator at University of Wisconsin-Extension in Juneau County said there is a difference between being hungry and food insecure.

"The federal definition of food insecurity is whether a person has access to culturally acceptable food for their family," she said. "Hunger is actually the sensation of feeling hunger pains."

According to the United States Department of Agriculture official website, food insecurity is defined as the "limited or uncertain availability of nutritionally adequate and safe foods or limited or uncertain ability to acquire acceptable foods in socially acceptable ways." The USDA defines food insecurity in two separate categories: low food security — meaning reduced quality or variety with little to no indication of reduced food intake — and very low food security — meaning individuals will have disrupted eating patterns and a reduced intake of food.

"There can be families that are food insecure because they are not procuring food in a culturally acceptable manner," Martell said. "They may be dumpster diving, so they might not have hunger but they are food insecure."

Addressing both issues of hunger and food insecurity can be a challenge for many reasons, but programs around the Juneau, Sauk and Columbia county area are in place to provide help to those in need.

Both challenges of hunger and food insecurity can overlap with larger issues in society, such as poverty, homelessness and unemployment. Because the cycle overlaps, programs have been looking at how to not only reduce hunger, but to tackle the other issues surrounding it.

Melissa Duane, Division Administrator of Economic Support for the Columbia County Health and Human Services Department, said through the FoodShare Employment and Training Program the number of people on FoodShare has decreased from 5,240 adults and children in 2016 to 4,831 in August 2017.

According to the Wisconsin Department of Health Services website, people ages 18-49 who do not have any children under age 18 in the same FoodShare household must meet a work requirement to qualify for benefits.

"(FSET) helps them find work, it helps them with resumes helps them with interview skills if they don't participate in that program or don't have an exemption there is the possibility they may lose FoodShare eligibility," Duane said.

Dawn Woodard, Director of Health and Human Services in Columbia County, said the program is more than just placing people into jobs but placing them into sustainable jobs.

"There has to be a level of match between their interest and their skills," Woodard said.

Private organizations have also taken to the challenges which can lead to hunger. John Ramthun, co-executive director of 6:8 in Prairie du Sac, said the organization not only takes on fighting hunger at the local and global level with its programs — like the community garden and backpack program — but also through its Learning for Life two-semester adult classes on cooking and finance as well as classes on resume building and how to build job skills.

"We try to put in a lot of energy into our food classes for that particular busy working single parenting (family)," Ramthun, said. "We've seen families that once needed the food pantry that have now found a job or were able to cut money out of their budget through our finance classes or be able to eat healthier and they no longer need to go to the food pantry."

Through offering the classes, he's hoping to break what he's seen in hunger and poverty, a generational cycle.

"Where mother and father were using the food pantry, now child that now has grandchildren," Ramthun said. "There's a norm that's presented and it becomes more of a cultural norm and that's the standard they reach."

Besides serving Juneau, Sauk, Columbia and Adams counties with keeping food panties stocked and holding food drives at Easter, Thanksgiving and Christmas Day, People Helping People in Baraboo recently released a work ready program to provide job training for those to enter the work force.

"We try to stay away from giving them a hand out because our mission is to give them a hand up," said Bill Harris, president of People Helping People. "We instill hope."

The various programs the organization offers have given hope to people like Ross Crowder, who has served time in prison and struggled with alcohol addiction. Crowder used the food pantry about three or four years ago. He called it a "different" experience. He describes not having enough money to purchase food as "hectic" and even currently struggles at times with trying to acquire enough food.

"I'm not one who likes to go to the food pantry," Crowder said. "I'm not much of a people person, there are a lot of people in there."

Crowder has been involved with People Helping People for nine months, which has helped him turn his life around.

"There're plenty of resources at (People Helping People)," Crowder said. "In a way it's a big help with me because I don't know where I would be if I wasn't (here).

Fred Hebert, Executive Director of the Central Wisconsin Community Action Council (CAC) in Wisconsin Dells said when families run into some tough times, such as a job loss, they may turn to a food pantry for temporary assistance to obtain food for their families.

"Why do we have poverty? Why are people low income?," Hebert said. "There are a lot of reasons. Families all of the sudden run into some problems like an accident, some medical problems, maybe they lost their job so they need something temporary and they will definitely get involved in the food pantry."

Kathy Green, Director of the Mauston Food Pantry, said when families run into a temporary situation, they may utilize the pantry for only a certain amount of time as bills get tight.

"They come one month when they need it and then we don't see them again for three to four months," Green said.

Food pantries have also seen an increase in the number of senior citizens who utilize the food pantry.

"The medical profession and the health profession is getting better and people are living longer," Hebert said. "People are a little healthier when they get older they are more mobile and they have access to the food pantries."

Food pantries receive food from many types of sources, from the federal level to many local donations. Green said government items make up less than ten percent of what's in stock at the Mauston food pantry, the rest come from local donations and food drives.

"Last year we distributed over 300,000 pounds of food and less than 30,000 pounds was from the government," Green said.

Hebert said he saw a significant increase in the number of people using food pantries after the Great Recession of 2008, but use has remained steady in recent years. One of the reasons he believes the numbers have stablized is an increase of employment in the area.

"The last three or four years we had a significant increase in the number of people using the food pantry," Hebert said. "Within the last six months or so it's kind of leveled off but we're still maintaining that higher level."

Hebert said he's seen many types of people from different backgrounds utilize the food pantry and struggle with not having enough to eat.

"I'll look out my window sometime at whose coming into the food pantry and people show up in a real nice car and they are dressed real nice … there are a lot of misconceptions," Hebert said.

During the holiday season, food pantries may see numbers increase to provide a Thanksgiving meal or Christmas dinner for families. Carol Gagnon, manager of the Sauk Prairie Food Pantry, sees an increase from 150 to around 200 families during the holiday season.

"It's nice to be able to share that love with family and not worry about 'Well if I bring this casserole to this house, am going to be able to pay for gas to get there?'" Gagon said. "That should not be a concern. Not at the holidays."

Knowing how to prepare certain items received from the food pantry can be a challenge. To help with preparing food, the CAC has a contract with the University of Wisconsin-Extension to give demonstrations at food pantries on how to prepare food. Mauston's food pantry will soon show video demonstrations of how to make certain food items and recipes. The pantry also hands out paper recipes on how to prepare certain food items.

The Sacred Heart Mobile Food Pantry, in Reedsburg, purchases the food from Second Harvest in Madison. The food is delivered by Second Harvest to Sacred Heart Catholic Church in Reedsburg for distribution to around 200 families on the fourth Thursday of every month.

"What they (Catholic Charities) are trying to do is outreach to places that aren't right in the city," said Mary Williams, coordinator for the food pantry. "There are lots of services available to places in the city of Madison (but) they are trying to reach out to the outlying areas that don't usually get as much benefit."

Williams said there aren't any income or living requirements, such as living within a school district, at the Sacred Heart Mobile Food Pantry to receive food.

"You can see people are really in need," Williams said.

Hunger can have an impact of how students perform in school.

"If you've got a kid that hasn't eaten for a day I'm not sure (their) science lecture is the first thing on their mind," said Joel Heesch, assistant principal at Mauston High School. "If we can take care of some of their basic needs and support them it also does help in the classroom."

Schools offer many resources to make sure students are fed, from free and reduced lunch, after school snack programs and backpack programs.

Last year, Portage's Rusch Elementary School Principal Nikki Schoenborn said she and the staff noticed students wanted to take a second breakfast or keep food so they could give it to their siblings or have something to eat after school.

"It honestly broke our hearts that kids were trying to take a second breakfast because they wanted the food," said Schoenborn, who's also the principal at Lewiston Elementary School.

To help with the effort, Rusch Elementary School began a backpack program to send food home with students on the weekend. Schoenborn said the program was what she called a "grassroots effort" from the staff at the school district to purchase food and supplies as well as community donations of money and time shopping and packaging food.

"We knew based off the needs of some of our students it would really be something our students would benefit from," she said. "One of the reasons we had looked to start it was because during the holiday break for the last six years we've gotten a donation from some community members. Right before winter break we would purchase food to sustain families for the week that they didn't have school lunch or school breakfast."

The Sauk Prairie Food Pantry has been working with the Sauk Prairie School District to open a food pantry at the high school — called the Food Pantry Annex — where a separate room is set up similar to a food pantry setting to provide self stable foods such as jelly, peanut butter and soup to send home with students of all age levels.

"We're trying to battle food insecurity at the high school level hoping it will trickle down to the younger siblings as well," Gagnon said. "The hope is to get focus back on school and not on their hungry tummies and not about the worry of what will I eat this weekend?."

Mauston High School is also looking to start a food and clothing pantry in the high school as well as a backpack program this year.

"A student comes in and then fills whatever items are in their backpack it zips up they leave nobody knows the difference between textbooks in there or food items," Heesch said. "It is a fairly discreet way to be able to support students in another area."

While Green is not against the backpack program, she said the bigger focus should be on feeding families within the community instead of an individual person.

"What I'm concerned about is that food gets traded on the bus, its gets eaten by older brothers or sisters, it gets thrown out the window," she said. "So you're not feeding the whole family. Giving the child the responsibility to take home a jar of peanut butter if he's got somebody that's 16 and needs the food, that child is not going to eat all the food because they are going to share with their brother or sister."

Announced last month, The New York City School District is offering a free lunch program for its students regardless of income levels. Gradyside Elementary School in the Mauston School District now offers a universal program at breakfast time.

The universal free breakfast program was unanimously approved by the school board in June for Grayside Elementary to introduce the program for the 2017-18 school year and has received positive reactions from administration and students. Because over sixty percent of students qualify for free and reduced lunch at Grayside, Principal Bobbi Steele said the district qualified for a grant to launch the program.

The breakfast is optional for students who arrive to school at around 7:30 a.m. While in the classroom, students have the option to pick from whole wheat breakfast items including pancakes, breakfast bars and cereal. If a student doesn't want a certain item, they can put it on a "sharing table" for another student to eat.

Two weeks after the program started, Steele said district served almost 2,000 breakfasts to students, a sharp increase from Sept. 2016 where the district served 1,646 total breakfasts for the entire month. In those two weeks, Steele said tardiness has decreased by 33 percent. Students learn about sharing and how something as little as setting an unwanted food item on a table can go a long way for someone in need. Steele hopes in the future to expand the program into all of the elementary schools within the Mauston School District.

"It helps them (the students) to understand about waste and understand they need to have more of a mindset to be more cognizant of that waste and how that makes a bigger impact on the world," Steele said. "I've had other kids say 'Boy, I don't want this right now sometimes I'm just too full. It's nice to be able to give it to somebody else.'"

One of the biggest changes with hunger is the courage one has to muster to ask for help.

"I know there (are) people out there that need assistance that we just simply can't get too," Green said. "That's our biggest heartbreak, either because they are so proud or so scared or so homebound or transportation issues."

Heesch said high school students may hide issues of food insecurity rather than speaking out about it.

"They are at an age maturity wise where sometimes you wonder if it's so they don't stick out, so they don't look different," Heesch said. "Sometimes it's their life and they've learned how to cope with it and deal with it so it is their normal."

Heesch said teachers at the school district receive trauma informed training to learn how to identify challenges happening in a student's life. With hunger or hunger related events at one of those areas, teachers are trained to spot changes in behavior and to build a relationship with the student to find a way to reach out.

"If we just know who they are we can get resources to make sure we know they are helping them," Heesch said. "Sometimes it's those small conversations of 'I'm kind of hungry today I didn't have anything to eat … it could mean when they woke up they didn't have time, it could mean when they woke up they just weren't hungry or when they woke up there wasn't any food to eat."

Schoenborn said staff may notice certain behavior patterns which trigger the teacher to take action and inform parents what resources are available.

"It's natural instinct with some stuff too and it's knowing your students and checking on when certain things happen," she said.

Ramthun said at 6:8 they will meet with individuals one on one to not only address what one temporarily needs, but also give them the encouragement they need for the long-term.

"It's a very personal one on one approach with people who are willing to put a little effort into it," Ramthum said. "Some of it takes the convincing that you can do it, you have what it takes to change your situation."

He believes personal contact with education is the key to addressing hunger and the issues surrounding it.

"If someone comes alongside them that cares and wants to invest in their life rather than just (say) 'Here's a pile of food ,that will get you by for the next week come back again,'" he said. "It's something beyond that, somebody that says 'You know what, I want you to be not hungry but I also want you to know that you can make a difference in your life."

Contact Erica Dynes at 608-393-5346 or on Twitter @EDynesSports.

The walls are up and the vision John and Sarah Ramthun had for a new facility for their growing organization is finally taking shape.
The new, 8,600 square-foot facility will serve as headquarters for 6:8 and the Sauk Prairie Area Food Pantry and features a main entrance/reception area, childcare room, teaching kitchen, dining room, classroom, office space, meeting rooms and an outdoor garden and orchard.
The 6:8 organization was founded about seven years ago, said John Ramthun, 6:8 co-founder. The group helps spread an awareness of poverty and the challenges of those dealing with poverty with education, service and conversation. It helps coordinate, sponsor or is directly involved in community events such as Fire on the River, Sauk Prairie Against Hunger, Silver Cord and mission trips.
The new 6:8 facility sits on a 1.5 acre-lot at 821 Industry Dr., in the Sauk City Industry Park. Currently 6:8 operates out of the Ramthuns' Prairie du Sac home, while the food pantry is located by St. Vincent de Paul in Prairie du Sac.
The space set aside for the food pantry in the new facility will more than double its current space, said Carol Gagnon, Sauk Prairie Area Food Pantry Director. Currently the food pantry occupies about 800 square feet and the new building will provide 2,000 square feet for it, increasing its capacity to serve more families. Another key factor is people using the food pantry will no longer have to wait outside in the elements before opening on distribution days, Gagnon said.
John Ramthun said 6:8 is currently at $679,340 in or pledged funding, which is 85 percent of its $797,900 goal. This leaves the group with the remaining $118,560 to raise to complete the project.
Along with individual donations of money or in-kind items, local businesses have also stepped up to help with 6:8's capital campaign. Ramthun said Sauk Prairie Healthcare is just one of many local donors helping to make 6:8's new facility a success: To date Sauk Prairie Healthcare has donated the equivalent of $25,000 worth of items in repurpose value necessary to furnish the building.
"We've received a ton of cabinets, sinks, counter tops, desks, chairs, appliances and a walk-in refrigerator/freezer," John Ramthun said. "We've even received dishes and hand dispensers of soap for our walls."
Ramthun said in addition to the donations, Sauk Prairie Healthcare has generously agreed to store those items for 6:8 while volunteers slowly disassemble the unused items from the old hospital.
"They gave us the gift of storage which means we didn't have to rent another place to store everything as we have been taking things apart over the last few months," John Ramthun said. "And it has saved us from having to scrounge around for these items or do without."
The hospital did initially sell some of its excess items, first to employees and then the community. The majority of the items the Ramthun's have salvaged are from the old surgery department, offices and exam rooms.
"We even got a 10-burner gas stove, a hot water heater and an industrial dish washer," Sarah Ramthun said. "6:8 is also very motivated to repurpose things."
Ken Carlson, vice president of planning and business development for Sauk Prairie Healthcare, said it was important for the hospital to be able to give back to the community.
"Certainly we didn't want to see any assets that could be used in the community thrown away," Carlson said. "We think it is important to help support meaningful non-profits in the community."
John Ramthun said getting the building to an operational state has been a little slow going, a lot depending on volunteer's time and having the funding to pay contractors.
"We're working on getting it done as soon as possible," John Ramthun said.
Sarah Ramthun said 6:8 will hopefully have their grand opening in the spring of 2018.
"It's really been awesome for us when we first finished framing the walls and finally being able to see what it will look like when it's done," John Ramthun said.
Sarah Ramthun said she's been amazed at the community's generosity and passion to help them. "I feel honored to be a part of that," she said.
"Sauk Prairie is not a community that settles for status quo," John Ramthun said. "When something is wrong, they want to fix it. When something is needed they want to work to improve it."
Fighting hunger locally and globally
For the fourth year in a row, the Grand Avenue Elementary School gymnasium will transform into a bustling, noisy, harried room full of apron-wearing, hair-netted and latex-gloved volunteers rushing to pack as many Manna Pack rice food mixtures as possible.
It's the Sauk Prairie version of a three-day-long Feed My Starving Children national campaign to fight hunger, which last year packed its millionth meal in the three years the 6:8 organization's Sauk Prairie Against Hunger program has sponsored it.
The event starts Oct. 22 and goes through Oct. 24.
The food packs are shipped overseas to countries in which food is often scarce. The annual event has so far resulted in 1,032,148 meals shipped overseas, and shared 48,909 pounds of food with the Sauk Prairie Food Pantry.
The event typically draws more than 1,200 volunteers from Thursday at 9:30 a.m. through Saturday 1 p.m.
"Sauk Prairie Against Hunger's mission is raising awareness that there are hungry people locally and around the world," 6:8 co-director John Ramthun said.
During the event, groups compete in a can creation contest in which participants make artistic statues made of cans of food that are given to the food pantry.
Director Carol Gagnon said it's a major event for the pantry as the holiday season approaches and demand for help increases. "We see a lot more families between September and December," Gagnon said. "That's our holiday season and it kicks off with the homecoming parade when the National Honor Society collects cans of food. That's the first reminder to the community while other places start their food drives. The can creation event gets us through until those other deliveries come in."
Some food packs from the Feed My Starving Children event are also contributed to the pantry.
"You just add boiling water and you have a complete meal of good nutrition," Gagnon said.
The food pantry isn't just about providing food, though. Last year, along with the can creation sculptures, came a giant pyramid of 3,000 rolls of toilet paper.
"Instead of giving out one roll per month, we gave out 12 rolls," Gagnon said. "When patrons came through our line, they were giving me hugs. It's a huge need."
She said Village Family Dental employees are spending the month of October wearing Sauk Prairie Against Hunger buttons and are donating tooth brushes.
"That's really appreciated," Gagnon said. "Think about the dental bills they're helping to save with those."
Gagnon said the proceeds from the Prairie du Sac Farmers Market every summer is also a big help. Bake sales are held there, with all proceeds going to the food pantry.
Sue and Fritz Dohm are among the organizers of the farmers market. This year, the Dohms donated $2,000 to the pantry.
"All the proceeds from our vegetable table go to the Food Pantry," Sue Dohm said. "It's heart-breaking when we see kids in line with their parents waiting to get their food at the pantry."
She will make pies for a bake sale that goes on outside the gymnasium during the food pack event. She spends hours in her own kitchen baking, with the crust made from scratch and fresh apples.
"Sure it's hard work, but I enjoy doing it," she said. "It's for such a good cause."
Ramthun said the food pack event can get emotional when representatives of the Feed My Starving Children program show before-and-after photos of starving children in other countries that benefit from the food and become healthy.
"People are laughing and crying, but when all is said and done, they just fed 1,000 kids for a year who may otherwise have died," Ramthun said. "That's what they did for a weekend. The byproduct of having a good time is doing something so good. You can't replace that."
Celebrating the seasoned citizens
The 6:8 non-profit organization is known for fundraising for food that travels the globe, planning the Fire on the River celebration and mission trips to help build houses for the poor.
Now a new program under the 6:8 umbrella reaches out to the elderly in the Sauk Prairie community, called "Honoring our Elders."
The program is headed by Shirley Kelter, a chaplain whose life's work focuses on spiritual support for older citizens who may be home bound or in area care facilities.
Kelter said her work helps to complement and collaborate with the support given by area pastors to help reach out to senior citizens that might appreciate the extra time spent with them.
"It's not about running errands or doing things, but offering companionship and support by listening to their life stories," Kelter said. "I'd like to see us celebrate the treasure that the elderly folks are in our community. That's the thrust behind getting this started."
Kelter's experience working with the elderly includes her work as a chaplain with Agrace Hospice in Madison and end-of-life issues.
But she said her work is more about the life journey than it is about a person's particular religious beliefs.
"As a chaplain, my training is to work with all sorts of people," Kelter said. "Even those who say they are not religious can benefit from spiritual support. A lot of what I do is just listening and affirming things in their lives. If you catch someone with anger or grudges, it's to help bring healing and finding some peace."
6:8 co-director John Ramthun said the organization added the program because they saw a need for helping the elderly members of the community.
"There was a gap in our ministry for the elderly," Ramthun said. "We do such a good job in this community celebrating youth and the arts, but we wanted to also celebrate the elderly and the wisdom they have. We've spent a lot of time reaching out to the kids and families, but not really to the elderly. We fell in love with the idea of being of service to the elderly and celebrating them and honoring them."
Kelter said the program includes visiting seniors who may be experiencing dementia or other memory loss conditions.
"Someone's spirit always recognizes caring and kindness and love," Kelter said. "To go see someone's mother with advanced dementia and who doesn't recognize their daughter, they will still recognize love. That may be the most important thing to them in their day."
Kelter's mission is not only to help those in the aging process, but to lend support to their family members at the same time in end-of-life matters.
She has two programs planned in March for both the elderly and their family members at St. John Lutheran Church.
The first is "Aging in God's Grace," on March 12, a retreat for people in their 70s, 80s, 90s, and even the 100s.
"It's for those on the pilgrimage of life where aging can bring a host of challenges and loss, but also gifts and invitations from God, family, and community if we recognize them and open our hearts to receive them," Kelter said.
The second retreat is on March 14 called "Replenishing Our Spirits: Adult Children Caregivers of Elderly Parents."
"It's a program for adult children who are offering care or support to their elderly parents or grandparents," Kelter said. "Sometimes all you need to do is listen to that life story and ask what are you proud of and what marked you with joy or sorrow? Where did you find strength and courage? We can all learn from that."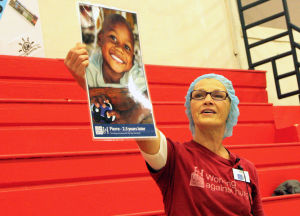 Betty Basarich, a Feed My Starving Children representative who works at a permanent food packing site in Libertyville, Illinois, shows the smiling face of a little boy in Haiti who nearly died until fed with the organization's meals that more than 1,000 Sauk Prairie area volunteers helped pack and ship at Grand Avenue Elementary School on Oct. 30, 31 and Nov. 1.
A gymnasium full of volunteers fell silent Oct. 31 as Betty Basarich held up photos of a little boy in Haiti who had been near death from starvation.
Calling him Pierre, Basarich said when the Haitian boy was a year old, he weighed only 11 pounds.
He turns five this month, the Feed My Starving Children worker said as she held up another photo of Pierre, his face more full and smiling brightly.
"Pierre was taken to one of our medical clinics and he was diagnosed as being near the end of his life," Basarich told the crowd of nearly 100 people. "So, he was given emergency treatment and fed our food."
Pierre helped to a put a face to the goals of the 6:8 organization's Feed My Starving Children food packing event at Grand Avenue Elementary School held Oct. 30, 31 and Nov. 1.
Basarich said Feed My Starving Children has also supplied what's known as Potato-D and Potato-W mixtures that have helped Ebola-afflicted Liberia address symptoms from the disease.
The event surpassed its goal of packing 350,000 meals by more than 31,000.
John Ramthun, co-director of the 6:8 organization said the 1,200-plus volunteers completed more meals than the group had raised money for. 
Donations of $77,00 left the group in the red by $7,000 for the large number of prepared meals.
On Nov. 3, Culver's raised a challenge to area businesses to chip in and donate. Whatever is donated, Culver's will match it dollar for dollar, up to $3,500.
"That's really valuable and to know a community our size is feeding that many people, Ramthun said. "The event couldn't be this big without the whole community supporting it."
The 6:8 group packed its millionth meal in the three years it has hosted the event.
In addition to the food packing for other less fortunate countries, the event brought in 8,096 cans weighing 3,515 pounds for the Sauk Prairie Food Pantry. 
"Our mission at 6:8 is feeding people locally and gloabally," Ramthun said. 
For the third year, Mueller's Sports Medicine took first place in the Can Creation contest in which groups make artwork using canned goods.
Mueller's made a Jack-o-Lantern out of cans. Merrimac Charter School came in second with its food fairy can structure.
Ramthun said other communities joined in this year, with churches in Lodi, Baraboo and Madison sending several volunteers.
However, most of the volunteers were from the Sauk Prairie area, with many of them volunteering for their third time, and even working through multiple packing sessions.
Les Muller of Frito Lay came from Rockford, Illinois to help pack boxes with other Frito Lay employees. He said his community observed Halloween a week early, so he had the time to spare.
"I love kids and I love doing this kind of stuff," Muller said.
Kim Peck of Prairie du Sac also works for Frito Lay. He's volunteered for the event all three years.
"I love the lord and I love these kids, and anything I can do to help is kind of what he wants us to do," Peck said. "It just makes you feel good."
It was the first food packing event for Christina Brotherton of Prairie du Sac, who volunteered with her husband and son.
"We thought it would be a fun activity for the family," Brotherton said. "To think you're feeding kids, it's even better."
Jada Burch, 7, her brother Rylan, 6, and their grandmother Shirley Slaney volunteered for their second packing shift of the day.
"I want to do this for a long time," Jada said.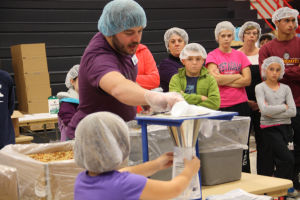 Last year, Danny Pyne with the Feed My Starving Children organization of Chicago, showed local Sauk Prairie Against Hunger volunteers how to package meals that will be shipped around the world.
How to help
To volunteer for the food packing event, contact John or Sarah Ramthun at 608-658-4700, email makingservicepersonal@gmail.com or visit the 6:8 Making Service Personal website at www.makingservicepersonal.org
October may be the busiest month of the year for organizers of the Sauk Prairie Against Hunger program, but the group's efforts in providing food to low income families goes on all year.
Sauk Prairie Against Hunger is operated as part of the 6:8 Making Service Personal organization.
The group is looking for volunteers to help with its annual packing event that provides food to the Sauk Prairie Area Food Pantry and sends packs of food items to under developed countries experiencing food shortages.
This year, 1,500 volunteers are needed Oct. 30, 31 and Nov. 1 for the Feed My Starving Children food packing event at Grand Avenue Elementary School. The group plans to pack 350,000 meals to be shipped around the world.
Last year, more than over 1,000 volunteers packed 217,000 meals, and the goal this year is 1,500 volunteers who work a two-hour shift packing the food.
During that same weekend, a Can Creation food drive will be held in which local groups use canned food products to create artistic displays. The displays are judged and their creators are awarded prizes in categories of artistic creativity of display, total number of items and total weight.
6:8 co-executive director John Ramthun said 5,000 pounds of food was collected last year at this time, and the goal this year is 6,000 pounds, all of which will be donated to the Sauk Prairie Area Food Pantry.
Ramthun said the food packing weekens is a big part of the group's activities, but there is much more work that goes on year-round to help feed families in the Sauk Prairie School District.
"Our core team meets weekly throughout the year helping to feed people locally and globally," "It's a year round adventure," Ramthun said. "Four years ago we sponsored 30 families. Now we sponsor 110 families each school break."
The group works with the school district to determine families with the greatest need and four times per year gives out backpacks of food items and gift certificates for both the Piggly Wiggly in Sauk City and Sentry Foods and Wyttenbach Meats in Prairie du Sac.
Ramthun said the backpack is funded entirely by $77,000 in annual donations to the group. So far this year, the effort has raised more than $62,500 toward that goal.
The group also plants a garden of vegetables at St. Johns Lutheran Church and holds food and donation events throughout the year to meet its goal of reducing hunger in the local area and globally.
Written by Cheryl Horne, For the Catholic Herald   
Thursday, Mar. 28, 2013 -- 12:00 AM
MADISON -- In 2012 several parishes banded together with the Catholic Multicultural Center, Kids Against Hunger, as well as the organization 6:8 Making Service Personal and made a plan.
The plan, called Feed My Sheep, was to invite people from local Catholic parishes to donate toward building 25,000 meals for people in need in the Madison area and throughout the world. Each meal only cost a quarter, yet 25,000 meals sounded like a lot of quarters . . . and it was.
Yet that year we blew the goal out of the water and raised money and had enough volunteers to make over 61,000 meals.
Reaching a new goal
So, when it came time to plan for the 2013 Feed My Sheep event, we decided to dream bigger. This year the goal was an unprecedented 100,000 meals.
And again, we exceeded the goal.
At the end of the day there were 100,872 meals prepared, boxed, and ready to be taken to wherever they were needed.
Together people from the Catholic Multicultural Center as well as Good Shepherd, Our Lady Queen of Peace, St. Bernard in Middleton, St. Maria Goretti, St. Martin, St. Peter, and St. Thomas Aquinas Parishes raised the money and the volunteer power to exceed the goal. Coordinated by 6:8 Making Service Personal, they responded to Jesus' call in the Gospel of John to "Feed My Sheep."
A personal approach
The day was different from the year before in another way as well. Many of the volunteers enjoyed lunch with the guests at the Catholic Multicultural Center at the beginning of the work day.
Sharing a meal together, those who had come for food and fellowship as well as those who had come to serve, helped to give the day a more personal approach.
'Who is my neighbor?'
We answered the question around the lunch tables we shared that day. And we answered it repeatedly as bag after bag and box after box was filled with food for people in need across the globe.
While much of the food will remain in Madison (including the food pantries at the Catholic Multicultural Center and St. Vincent DePaul as well as Salvation Army and the Sauk Prairie Food Pantry), a good portion of the food is headed toward a school in Nicaragua.
Preaching the Gospel
Finally, at the end of the long day, with over 100,800 meals prepared for those in need, the day, as it had the year before, culminated in Mass.
Msgr. Ken Fiedler, pastor at Our Lady Queen of Peace Parish, said Mass at the Catholic Multicultural Center for everyone who wanted to join. Many from earlier shifts returned and many (still in their hairnets) came upstairs after the final shift to pray together.
Monsignor Ken's homily featured the words most often attributed to St. Francis of Assisi in honor of Pope Francis: "Preach the Gospel at all times. When necessary, use words."
"Today," said Monsignor Ken, "you have preached the Gospel."
Feed My Sheep
Plans are already underway for Feed My Sheep 2014, so mark your calendars for Saturday, April 5. Talk with your parish leadership (and if your parish wants to join the team for the first time, contact 6:8, Making Service Personal), talk with your family, talk with your friends, save your quarters, and come join us.
For more information about Feed My Sheep last year, this year, or next year, go to the 6:8 Making Service Personal Web site at http://www.makingserviceperson al.org
You may send e-mail inquiries to makingservicepersonal@gmail.com
Cheryl Horne is the director of youth ministry at Our Lady Queen of Peace Parish in Madison.
Written by Kevin Wondrash, Catholic Herald Staff   
Wednesday, Mar. 20, 2013 -- 12:00 AM
Last weekend in Madison, more than 100,000 meals were packed for hungry people at home and around the world.
A good number of the meals are going to children. Many of the meals were packed by children.
Saturday, March 16, was the second annual Lenten "Feed My Sheep" food-packing day at the Catholic Multicultural Center (CMC) in Madison.
The driving force behind the event is "6:8," a group based out of Prairie du Sac that spearheaded a fundraising event and brought the money needed for the 100,000 meals. Last year, the group raised enough money to package more than 68,000 meals.
The executive directors of 6:8 are the husband and wife team of John and Sarah Ramthun.
As volunteers, including many children of all ages, poured into the chapel at the CMC for orientation, John shared the message of 6:8: "We desire to transform communities by making service personal," said John.
"To really see that there is such a need in our society, and out community, more people working together, and it's so easy to be isolated in our careers and family and sometimes we lose track of what it really means to be human."
The task ahead
To put numbers and faces to the reality of hunger in the world, volunteers from Kids Against Hunger in Rock County shared some facts with the soon-to-be food-packers.
While some of the meals will stay in the Madison area, many of them will go to a school in Nicaragua. Volunteers told stories how some kids in the Central American country have to begin their days in a dump, looking for items to trade or sell in order to have food. The meals shipped there will go to a school started by a Catholic priest. School attendance is reportedly higher when meals are provided for the children.
The Rock County chapter of Kids Against Hunger helps provide the meals for packaging.
The total cost of one meal is a quarter. It contains a simple combination of rice, soy, vegetables, and a chicken flavoring. The flavoring is actually vegetarian and vegan friendly.
Packaging the food
After the volunteers watched a brief training video on how to package the meals, it was time to put on the hairnets and gloves.
Kids were the backbone of the operation as many parents brought their children along to help and also Confirmation groups provided their time and talent.
Almost two-dozen assembly lines were in action packaging the meals.
Some volunteers poured the ingredients into a bag; others weighed the bag and sealed them up. A favorite job of the smallest helpers was stacking the bags at the end of the table to make sure the output was at the necessary 36 bags to put in one box.
When a box was filled, the whole room celebrated. Everyone at the table yelled, "Do you love me?" Everyone responded with "Feed my sheep!"
Each table yelled "Do you love me?" around eight times per shift. That adds up to more than 1,700 meals packaged by each volunteer group.
For most volunteers, the time went by fast, especially once the reality sets in that the groups are really "making service personal." The work being done will help people who are hungry, many of them the same age as the young volunteers.
Feeding the sheep
At least 55 boxes of food, or more than 12,000 meals, will go to the St. Vincent de Paul Society in Madison, while 25,000 meals will help the hungry kids in Nicaragua.
"We're making a difference, we're not just having a good time, we're impacting the world, which is kind of amazing," said Ramthun.
He expressed a hope of someday packaging one million meals in a weekend. No doubt a lofty goal, but the potential is there.